Final Product
What You'll Be Creating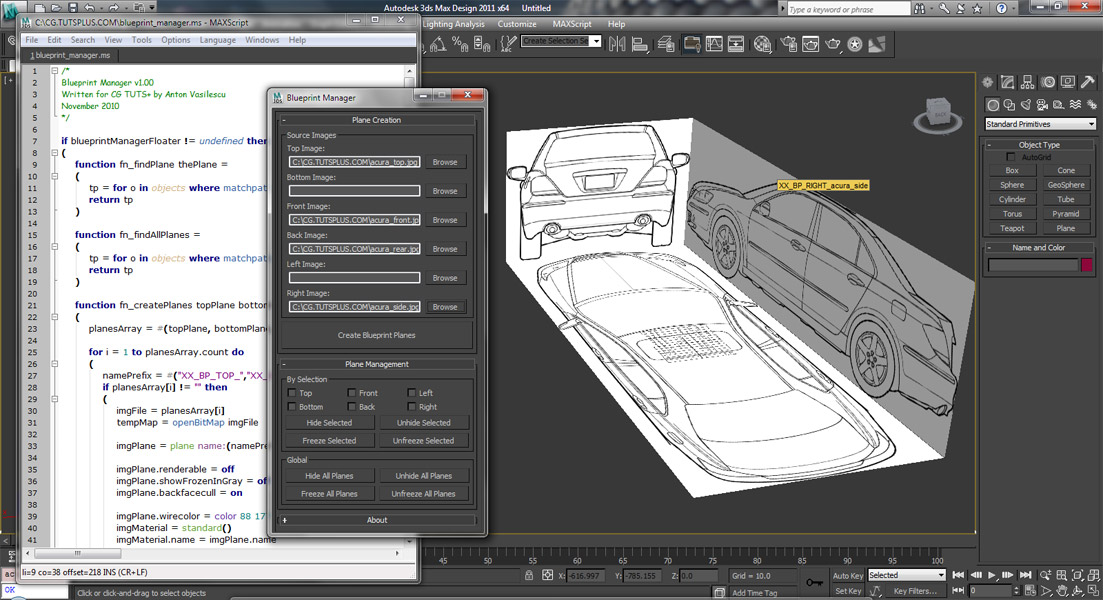 In today's awesome tutorial, Anton Vasilescu begins his three-part series looking at how to create a 'Blueprint Manager' script in 3Ds Max. Knowing how to use MAXScript will allow you to tackle many of the repetitive tasks you face on a day to day basis, tremendously improving your productivity. Let's get started!
This three part tutorial requires basic previous scripting experience, however, a good working knowledge of 3ds Max is required to make the most of this series and so is best tackled by intermediate users.
The tutorials will walk you through the creation of a MAXScript tool from scratch and will explain how to use the 3ds Max's Listener, the MAXScript Help and the MAXScript Editor to your advantage, how to create interface elements, how to work with geometry and materials, and will show programming concepts like loops, functions and error trapping. The completed script will allow you to automate the creation of blueprint plane set-ups for modelling and will provide the tools to properly manage them during the modelling process.
---
Additional Files/ Plugins:
---
Note: click the 'Monitor' icon to view tutorial in full-screen HD.
---
Note: click the 'Monitor' icon to view tutorial in full-screen HD.
---
Don't miss more CG tutorials and guides, published daily – subscribe to Cgtuts+ by RSS.